---

Welcome to SCMS Online...
the largest voice of organized medicine
in Springfield and Sangamon County


---



New Affordable Dental and Vision Insurance Plans Available for All SCMS Members!



The Sangamon County Medical Society is excited to offer current members and their staff access to affordable Dental and Vision insurance plans through Delta Dental of Illinois, featuring the largest network of dentists in the nation!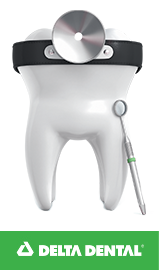 This is not your traditional employer sponsored Dental & Vision Plan. There are no employer participation requirements. Your employer does not have to contribute toward the premium. Employers and employees can pay for their coverage individually. The plans are voluntary and offered as a benefit to members and their families.

The initial plan year began on December 1st, 2016. We are being offered the opportunity to enroll in these programs during a special enrollment period that runs from March 1st through April 31st, 2017. If you enroll during the special enrollment period, any dental or vision expenses you have incurred on or after December 1st, 2016 may be submitted as a claim to Delta Dental for reimbursement.

The Delta Dental Insurance plans pay 100% for preventive and diagnostic services such as exams, cleanings and x-rays. Additionally, with the Delta Dental PPO plan, deep discounts are provided for services such as fillings, crowns, root canals, and more, with an annual maximum benefit of $1,500 per person. If you select the Delta Dental DHMO, you have an unlimited annual benefit for most covered services, including coverage for orthodontia. Please note, the DHMO network has very limited selection in Sangamon County.

The Delta Vision Insurance plan provides comprehensive coverage, including a routine eye exam once every 12 months for a small copayment, discounted lenses or contact lenses once every 12 months, and $130 frame allowance every 24 months. There is even a benefit payable if you purchase your glasses or contacts at a non-participating provider! Just send in your receipt and receive a check back for the annual benefit allowance. It is as simple as that.

As an SCMS member, you now have access to comprehensive dental and vision plan options that are both affordable and easy to use!

Please click here to visit our enrollment website to learn more about the different plan options.

If you have any questions, please call or email the SCMS office. Benefit Partners Group is pleased to offer dedicated customer service representatives to assist with any questions or concerns you may encounter during the enrollment process. You can reach toll-free live support between 9am and 5pm at (877) 247-8817.


---



Your Latest SCMS Newsletter



The latest SCMS newsletter, Sangamon Medical News, is available online. Click here to view the January-February-March newsletter.


---



Medical Innovators



Medical Innovators is a program of the Sangamon County Medical Society in partnership with Springfield Clinic, SIU School of Medicine and the Springfield Chamber of Commerce recognizing the scientists, clinicians, and other medical providers working within the Mid-Illinois Medical District on significant medical treatments, clinical trials and/or medical research.

Please take a moment to view the following Medical Innovators as they discuss their research.

Nine Medical Innovators were recognized on March 10th at the Memorial Center for Learning and Innovation in Clinical Treatments and Basic Science Research. Five of the Innovators are younger than 40 and received the distinction of "Young Innovator".

A special thank you to our sponsor: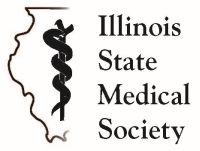 Brandon Cox, PhD was recognized as a 2016 Medical Innovator based on her research in "Cell Regeneration in the Ear to Restore Hearing".
https://youtu.be/d-2bTjKYSXA

Arun Sharma, MD, MS was recognized as a 2016 Medical Innovator based on his research in "Robotic Surgery in Patients with Head and Neck Center".
https://youtu.be/qbOlENTSCFk

Andrew Wilber, Ph.D. was recognized as a 2016 Medical Innovator based on his research in "Cancer Fighting Natural Killer Cells".
https://youtu.be/78LcY4P-JLs


---
Welcome to Organized Medicine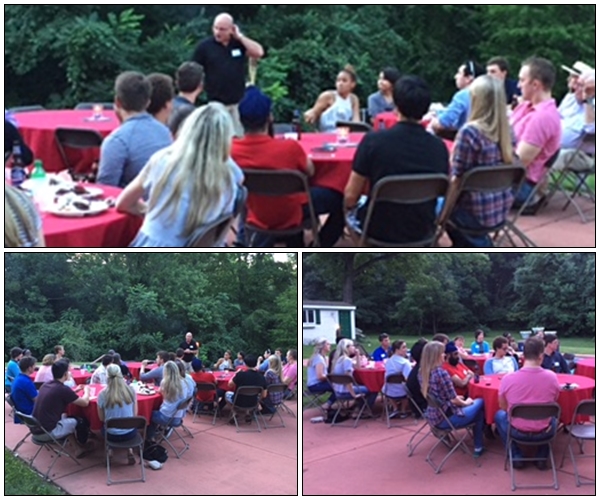 Sangamon County Medical Society's "Welcome to Organized Medicine" — A special "Thank You" to
Dr. Carl Gold for hosting dinner at his home to welcome new SIU School of Medicine Medical Students.


---
Sangamon County Medical Society & Springfield Rotary Clubs
The Case for Immunizations
A Special Thank You to our Presenters:
D'Ann Campbell, Ph.D. ⋄ Gayla Havener, RN
Jennifer Snyder, MD ⋄ Nirav Shah, MD, JD
Steven O'Marro, MD ⋄ Eli Goodman, MD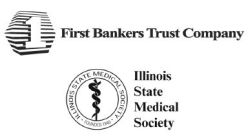 A Special Thank You to Corporate Supporter
and Gold Supporter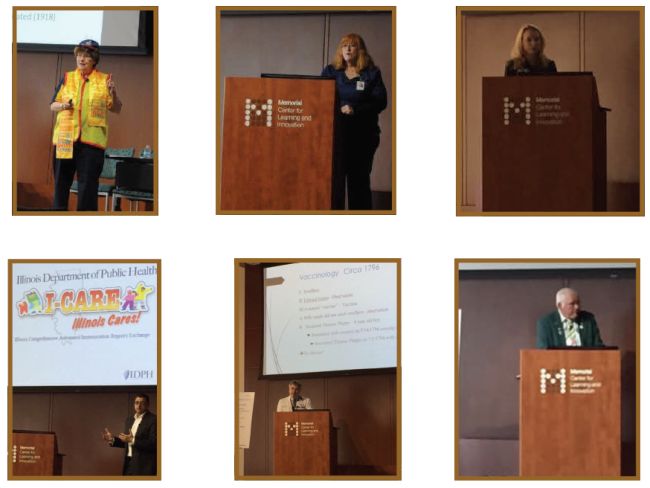 ---
26th Annual Thomas F. Harmon, M.D.
Memorial Fund Award Presented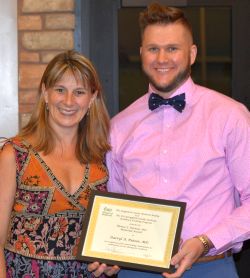 On behalf of the Sangamon County Medical Society, we are pleased to announce the 2016 recipient of the 26th annual Thomas F. Harmon, M.D., Memorial Fund Award. This year's winner is Darryl Putzer, M.D., a third year resident at Southern Illinois University School of Medicine (SIU), Springfield.

Dr. Putzer is originally from London, Ontario Canada. He joined SIU Family & Community Medicine in June of 2013 after completing his MD at Medical University of the Americas, Nevis, West Indies. He has excelled as a resident in Family Medicine and has been loved by his patients, fellow residents, and the entire team at SIU Family Medicine. He has embraced the spirit of Family Medicine and in particular the community outreach part of this work. It is for this reason that the faculty at SIU Family Medicine felt he was a deserving recipient of this award.

Dr. Putzer has a special interest in Sports Medicine and has taken this love to the community. He has been the Assistant Team Physician for the Springfield Foxes (Great Midwest Football League semi-pro football team), the Assistant Team Physician for the Springfield Jr. Blues (North American Hockey League), and the Team Physician for the University of Illinois NCAA Division II athletes completing their pre-participation physicals. He has also provided medical coverage for local amateur boxing and mixed martial arts and marathons. In addition he has worked with younger local athletes providing pre-participation sports exams to clear them to participate in local athletics. This has been all above and beyond his daily clinical expectations for his patients at SIU Family Medicine which he does every day with an excellent attitude and bed-side manner.

Overall Dr. Putzer's patients love him and see them as their Family Physician. And at home he is also a loving husband and father to his wife Katie McGarrell Putzer and daughter Grace Catherine Putzer. With all of this said it is more than evident why he encompasses all of the qualities that the Harmon Award represents.


---

A Special Thank You to Our
"Bridging the Gap Between Medicine and Dentistry"
Joint Meeting with G.V. Black District Dental Society Presenters

Samir Patel, MD
Jordan Williams, DMD

Program Supporters:
First Bankers Trust
Wexford Health
Carrollton Bank
Nobel Biocare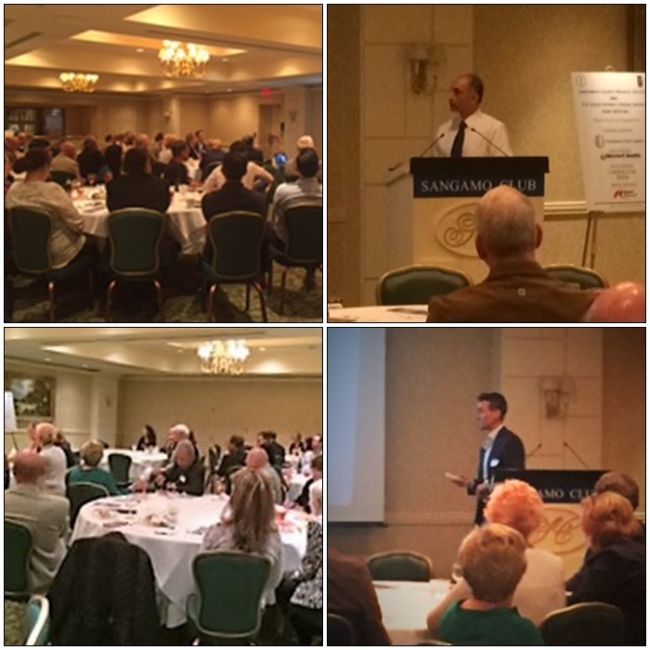 ---

Sangamon County Medical Society
Mini Internship Program, Spring 2016

A special "Thank You" to our participating physicians and college student interns:z

Physicians: Dr. Tam Mai, and Dr. Shailesh Nandish

Mini Interns: Tayo Ajenifuja, and Vanessa Nevarez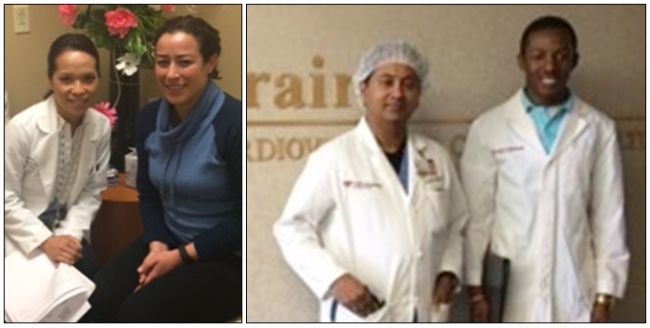 ---

2nd Annual Summit for Coordinated
Healthcare Across Springfield

The MCLI was host to the Memorial Medical Center and Sangamon County Medical Society's 2nd annual Summit for Coordinated Healthcare Across Springfield. Thank you to all the community organizations and medical personnel that participated! Also thanks to KEB for sponsoring the event, and First Bankers Trust for door prizes.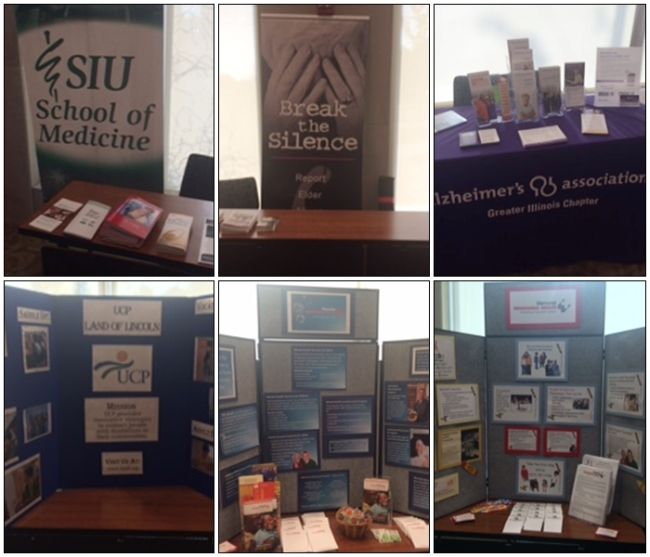 ---
2016 ISMS Annual Meeting Highlights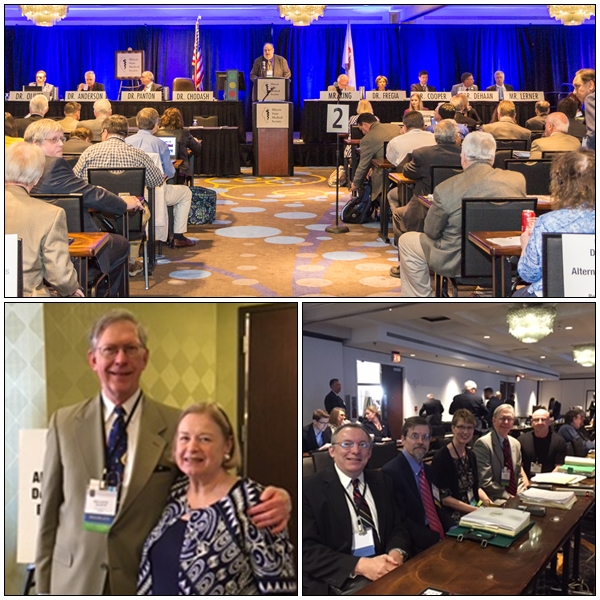 From April 15-17, physicians from around Illinois gathered in Springfield for the 2016 ISMS Annual Meeting and House of Delegates.

Doctors devoted three days to discussing hot topics, reviewing healthcare proposals and establishing policy priorities for the Society. Governor Bruce Rauner also addressed the meeting, discussing his vision for reforming Illinois government and the ongoing state budget negotiations.

This year's meeting kicked off with a special leadership session which featured Sangamon County Medical Society's Rajesh Govindaiah, MD, participating in a panel discussion.

The House of Delegates considered over 60 resolutions, many of which were adopted at this meeting and several which will be studied over the coming year. A sampling of adopted policies include:

• A call to initiate legislation to address commercial health insurers' "narrow networks," which limit patient options and disrupt patient care. Legislation, which had been under development, was introduced in Springfield the week following the Annual Meeting;

• Support for allowing the federal government the authority to negotiate prescription drug prices purchased under the Medicare program; and

• Support for full tax deductibility for student loan interest, regardless of adjusted gross income level.

For a full recap of new policies adopted by the House of Delegates, visit www.isms.org/HOD.

The 2017 ISMS Annual Meeting will be held in Oak Brook on April 21-23. Save the date!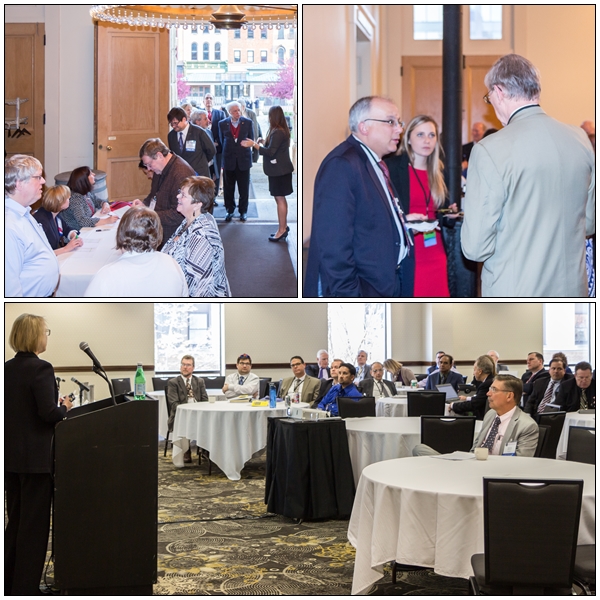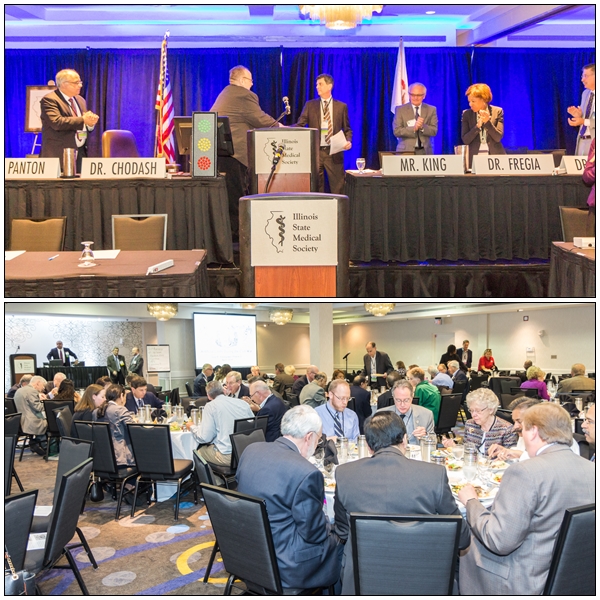 ---

Medical Innovators 2016 Congrats,
Video Now On SCMS YouTube!

Click here to view the Medical Innovators 2016 video.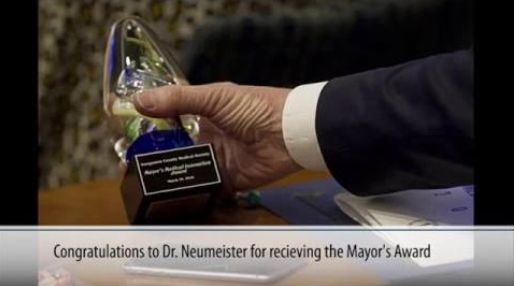 ---
Medical Innovators Award Conference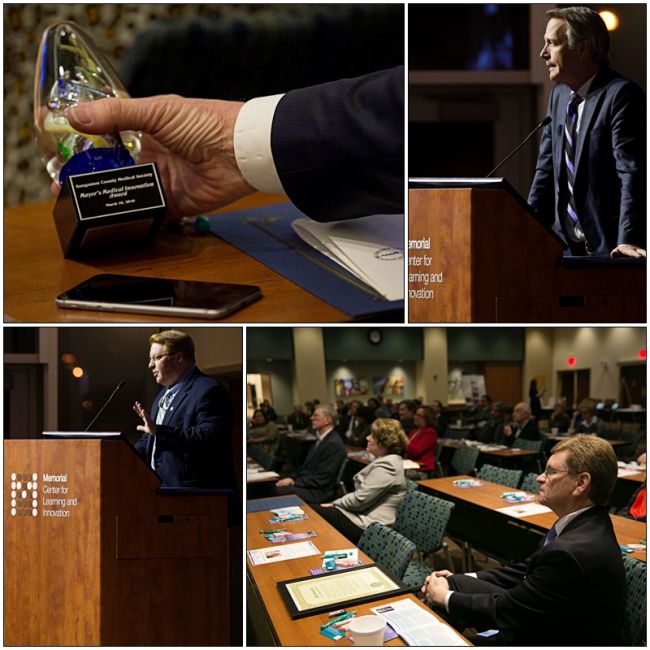 On March 11, the Sangamon County Medical Society hosted the 10th anniversary Medical Innovators Award Conference at the Memorial Medical Learning and Innovation Center. The program, established in 2006, has recognized 46 physicians, surgeons, and other researchers working in Sangamon County to improve the healthcare of the community. Innovators from 2006, 2009, and 2013 were invited to share a brief update on the projects honored in those years. The depth of the research and community service demonstrated in earlier years has been maintained and extended in the past decade. Projects involving tinnitus, growth hormone and aging, hearing loss, treatment of soft tissue infections with new, more effective, and safer antimicrobial agents, new treatments for psoriasis, Alzheimer's disease, depression, hemoglobin disorders, and hepatitis C were all highlighted.

Prominent among the previous community service projects was the work of Dr. Judith Knox who had helped lead the Springfield City Council in 2013 to introduce a ban on indoor tanning for persons under 18 years of age. The work has been extended to state legislation and will ultimately result in a great reduction in the incidence of skin cancers among persons who had previously tanned indoors.

In 2016, the innovations have continued. The recognition program was introduced by Dr. Carl Gold, President of the Sangamon County Medical Society. Keynote speaker was Dr. Thomas Anderson, President-Elect of the Illinois State Medical Society. He has been active in ISMS since 1975. After graduation from Harvard Medical School, he became a diagnostic radiologist and currently practices at the University of Illinois Chicago Medical Center.

I served as Master of Ceremonies for the evening and was pleased and honored to recognize the great contributions of the nine honorees for 2016. The included:

1) Tamar Abdelhak, M.D., Associate Professor of Neurology for Southern Illinois University School of Medicine. Dr. Abdelhak has led groundbreaking studies of minimally invasive evacuation of central nervous system hemorrhages.
2) Glen Aylward, Ph.D., Professor Emeritus of Pediatrics and Psychiatry at SIU. Dr. Aylward has updated the Bayley Four Scale of Infant and Toddler Development to define preschool children in the early stages of developmental abnormalities.
3) Brandon Cox, Ph.D., Assistant Professor of Pharmacology at SIU. Dr. Cox is studying cell regeneration in the ear to restore hearing, beginning with a model in mice that may translate to human improvements in hearing.
4) Alberto Colombo, Ph.D., Biomedical Engineer with the Division of Urology at SIU. Dr. Colombo is studying nickel-titanium shape memory alloys to provide a simple and safe solution to the widespread condition of erectile dysfunction.
5) John Flack, M.D., M.P.H., Professor and Chair of the Department of Internal Medicine at SIU. Dr. Flack is studying the effects of high dose vitamin D to help treat hypertension in African-Americans.
6) Sabha Ganai, M.D., Ph.D., Assistant Professor of Surgery, SIU. Dr. Ganai is studying hyperthermic intraperitoneal chemotherapy (HIPEC) to treat cancer in the abdomen.
7) Michael Neumeister, M.D., Chairman, Department of Surgery, SIU. Dr. Neumeister is using tissue engineering to restore deformities in the face and extremities of patients who have suffered injuries or have required reconstruction because of malignancies.
8) Arun Sharma, M.D., M.S., Assistant Professor, Division of Otolaryngology, SIU. Dr. Sharma is studying the use of robotic surgery in patients with head and neck cancer to allow reduction of tissue injury and the minimization of swallowing abnormalities following such operations.
9) Andrew Wilber, Ph.D., Assistant Professor of Medical Microbiology, Immunology, and Cell Biology, SIU. Dr. Wilber is studying natural killer cells in the body to help fight cancer. He had previously been honored as an innovator in 2013 for his gene therapy for severe hemoglobin disorders.

A highlight of the program was the presentation by Mayor James O. Langfelder of the Mayor's Innovation Award, granted to Dr. Neumeister as the Innovator of the Year.

The program to recognize innovators in the community has been an ongoing project of the Sangamon County Medical Society. All physicians and other scientists in the greater Sangamon County community are recognized for their great contributions. Such leadership has kept our area in the forefront of medical care in Illinois. We thank all of our sponsors including Springfield Clinic, the Greater Springfield Chamber of Commerce, Illinois State Medical Society, and Southern Illinois University School of Medicine.

Donald R. Graham, M.D., F.A.C.P.


>br>

---

2015 Thanksgiving 5K Run/Walk
In Support of SCMSA Community Health Grants

Hosted by
The Sangamon County Medical Society Alliance
with the Sangamon County Medical Society

The chilly, rainy weather on Saturday, November 21st — the morning of Struttin' then Stuffin' — did not stop the intrepid volunteers, runners, and walkers who showed up to help out and participate. Although turn out was lower than expected because of the weather, approximately 80 participants were lined up and ready to go at the nine o'clock start. That included seven brave souls who signed up that morning! Prizes were awarded to the top three men, top three women, and top three children. The first place adults were given turkeys, while all other winners received pies.

The winners were:
Men - 1st place Brandon Aren; 2nd place Austin Baker; 3rd place Jake Mehochko
Women - 1st place Pamela Hart; 2nd place Barbara King; 3rd place Katie Lang
Children - 1st place Isaac Crumine; 2nd place Jacob Park; 3rd place Kathleen Leigh

Thanks to our many generous donors, forty door prizes were awarded to those who were successful at "plucking a feather off the turkey", most ably played by Ethan Tucker.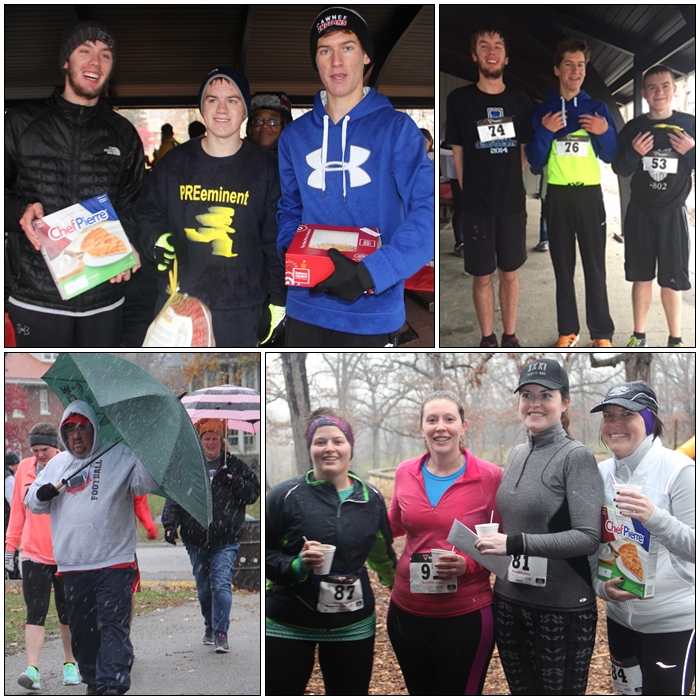 It might have been wet; it might have been chilly, but the friendliness and enthusiasm were warm... and so was the hot chocolate, in spite of the lack of electricity! A HUGE thank you goes out to all our volunteers, a dedicated group of Alliance members and their families as well as several members of the Rochester Cross Country team. All these wonderful people worked together and put on a great event.


The 2015 Struttin' then Stuffin' event was also a great success in raising funds for the Alliance Health Grants. That was the main goal... to raise money that would go back to the community in the form of grants awarded to local nonprofit organizations for programs and projects aimed at improving the health and welfare of all our community's members. Thanks to all the participants, donors, and most especially the sponsors, the expected net profit is slightly more than $9000! Once again we have shown that by working together we can accomplish something worth celebrating... something that will make a difference in peoples' lives, something of which to be proud!


---

A Special Thank You to Our Medical Marijuana:
Changes, Challenges and Opportunities Presenters

Dr. Scott Cooper, ISMS President
Conny Mueller Moody - Illinois Department of Public Health, Deputy Director
Deanna Mool, JD - SIU School of Medicine, Associate General County for Healthcare
David Stover, American Medical Rehabilitation Providers Association - President and CEO

Program Supporters:
Carrollton Bank
Wexford Health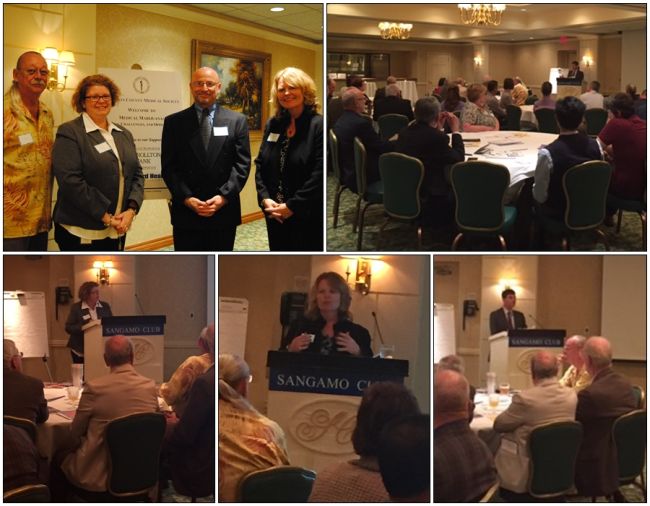 ---

Sangamon County Medical Society's "Welcome New
SIU School of Medicine Medical Students Dinner"

A special "THANK YOU" to the McManus' for hosting the dinner at their home.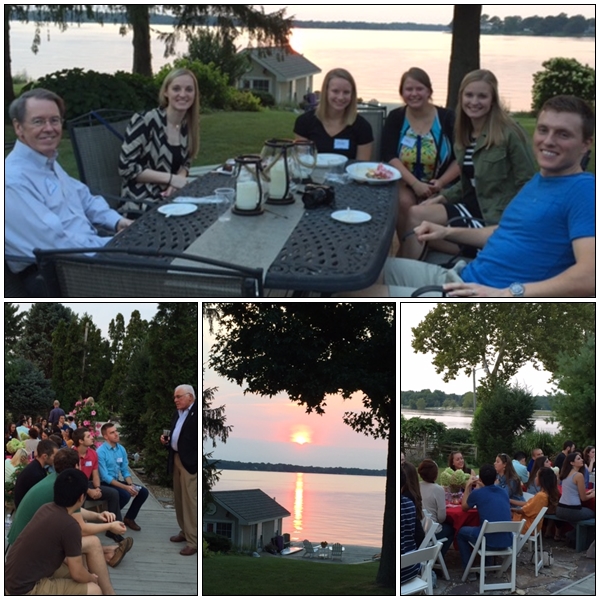 ---
SCMS Dr. Alonzo H. Kenniebrew Scholarship Fund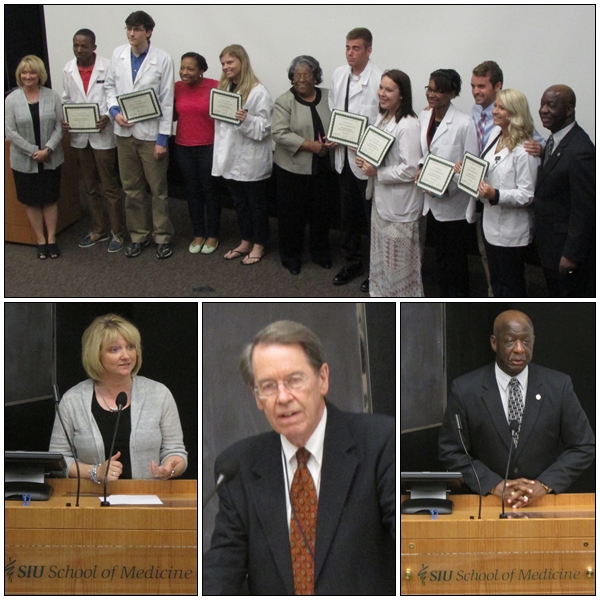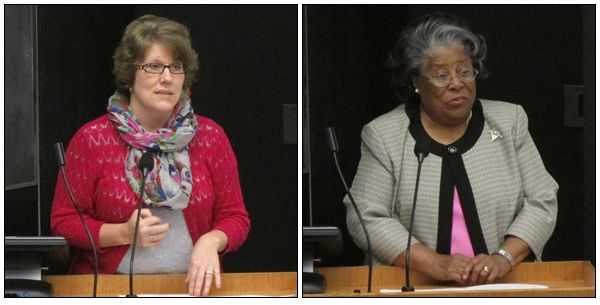 Sangamon County Medical Society Dr. Alonzo H. Kenniebrew Scholarship Fund congratulates the graduates
of the Physician Pipeline Preparatory Program. "Results Beat All Argument" - Dr. Alonzo H. Kenniebrew


---



Special Thank You



A special "Thank You" to our Supporters of the "Is Your Patient's Substance Abuse Hidden in Plain Sight"

Carrollton Bank ♦ Gateway Foundation
Illinois State Medical Society ♦ Wexford Health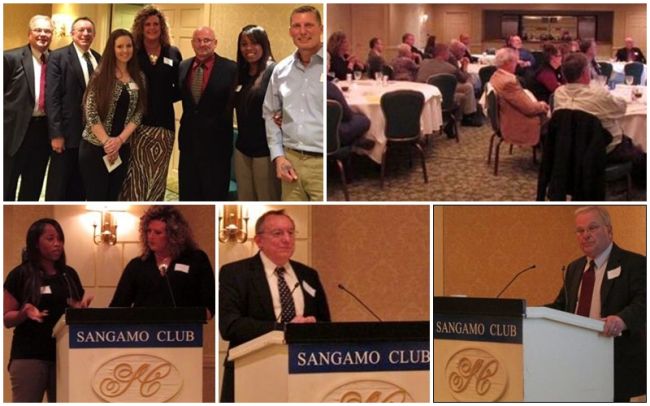 Thank you to our Presenters, Roderick Matticks, MD, Randy Malan, RPh, FASCP; Karen Harrold, MA;
Kerry Henry, BA, CADC; and to the individuals that bravely shared their personal stories of
addiction and recovery.


---

Medical Innovators Program Releases
Third Video in the Eight Series

The Sangamon County Medical Society released the third video in a series that highlights the innovation and research achievements within the local medical community on March 23rd. Each video profiles a 2013 Medical Innovators Award recipient.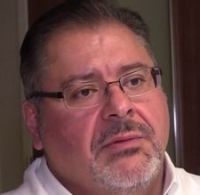 The video features the work of Dr. Khaled Saleh, professor and chair of orthopaedic surgery at Southern Illinois University School of Medicine. Dr. Saleh was named a Medical Innovator for his research on pain management for patients undergoing knee replacements.

The 5-minute video describes his research in knee replacement and includes a patient testimonial.

The Medical Innovators program, first established in 2006, recognizes physicians, surgeons and researchers working in Sangamon County to improve the health care of the community. Projects recognized include basic science research findings, leading-edge clinical trials, new patient-care treatments and community service projects. The Sangamon County Medical Society, Southern Illinois University School of Medicine and The Greater Springfield Chamber of Commerce coordinated the program, sponsored by The Illinois State Medical Society.

The series includes eight videos produced by Springfield Clinic in collaboration with the Sangamon County Medical Society and SIU School of Medicine. A new video in the series will be released on the last Monday of each month between January and August, leading up to the call for nominations beginning in September 2015 for the 2016 Medical Innovators award program.

Click here to view the latest video on the SCMS YouTube Channel.

Contact Carol Harms at the Sangamon County Medical Society, 217-726-5106, for more information.


---
SCMS & Sangamon County Bar Association Joint Meeting
Defensive Medicine: Real World Cases of Doctors and Lawyers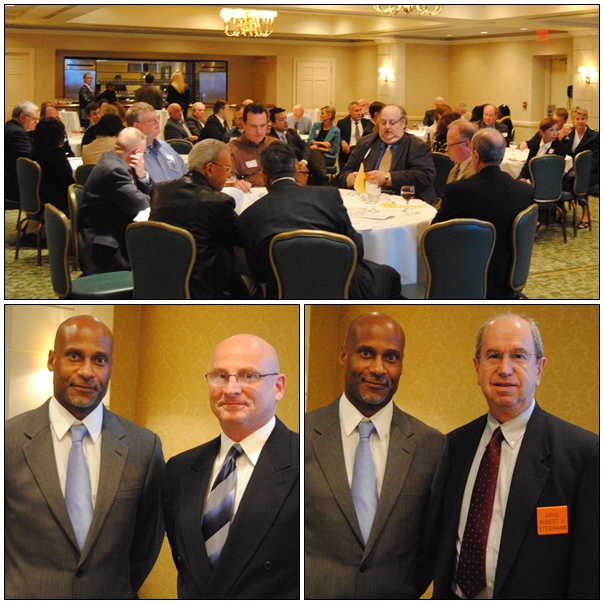 October 16, 2014 — A special thank you to our presenters, Freeman Farrow, MD, JD, FAAFP and
Justice Robert J. Steigmann. And our event exhibitors...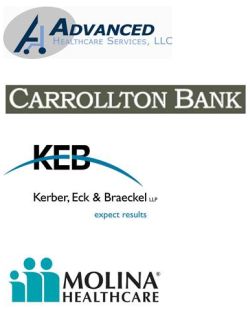 ---



Reasons to Join SCMS and ISMS



Please take a few minutes to review the reasons to join the Illinois State Medical Society and Sangamon County Medical Society.

We are working for you!

We are excited to hear your questions and comments regarding membership.

We want to support all physicians in Illinois and need your help in making our voice stronger locally and state wide.

Join today. Let's show our community and legislators that we are taking back our profession.

Click here to learn how the Sangamon County Medical Society and the Illinois State Medical Society are actively working for our members and to read the Top 10 Reasons Why You Should Renew Your ISMS Membership.


---
24th annual Thomas F. Harmon, M.D., Memorial Fund Award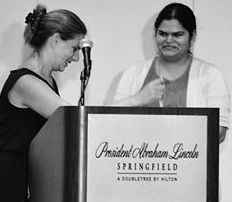 Dr. Poonam Paruchuri is a graduate from NTR University of Medical Sciences in India where she earned her medical degree in 2007.

She is a resident member of the Sangamon County Medical Society. She is married and the loving mother to 2 children (born during her active residency).

Poonam has taken a leadership role in the residency as Chief Resident. She has regularly volunteered wherever needed including school physicals for Robert Morris University and physicals for the Special Olympics. She was an active participate in the First Annual Health Fair at SIU Family Medicine's Federally Qualified Health Center.

The Family and Community Medicine staff at SIU, the Sangamon County Medical Society's Board of Directors, and her peers all believe that Dr. Paruchuri exemplifies the high ideals, principles and ethics embodied by Dr. Harmon.

A monetary award of $400 and a plaque was presented to Dr. Paruchuri in June, 2015, during the SIU graduation ceremony.

Congratulations!


---
SCMS/SCMSA Receives Kenniebrew Family Donation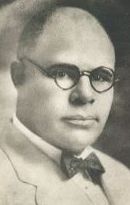 The Sangamon County Medical Society & Alliance Foundation has received a $60,000 donation from the family of Dr. Alonzo H. Kenniebrew in support of helping young people to achieve their goals.

The Sangamon County Medical Society & Alliance Foundation (SCMS &A Foundation) wishes to thank Dr. Alonzo Kenniebrew's family for their generous donation of $60,000 in memory of Dr. Kenniebrew and his late wife, Mrs. Jessie Mae Schultz-Kenniebrew Finley.

Booker T. Washington and George Washington Carver were two of the many patients cared for by Dr. Kenniebrew during his medical career.

The family has made this most generous donation to the SCMS & Alliance Foundation in order to honor their loved ones. It has been shared with the Foundation, that Dr. Kenniebrew and his wife both believed that "education was the way and strongly believed in helping young people to achieve their goals.

The donation will help with student programs; one program specifically is the Physician Pipeline Preparatory Program, an after-school program sponsored by the SIU School of Medicine and Illinois School District 186 for students interested in becoming physicians. The Pipeline program is open to all high school students from Springfield schools, both public and private. This donation will help fund the one-time monetary scholarship that will be given to graduates of the program who begin their first year of college.

W.G. Robinson-McNeese, M.D., executive assistant to the dean for Diversity, Multicultural, and Minority Affairs, directs the Pipeline Program for the School of Medicine.


---

Compliance for Revised HIPAA Rules;
AMA Tools Simplify Process

A new toolkit released by the AMA can help physicians navigate sweeping new revisions to the Health Insurance Portability and Accountability Act (HIPAA) privacy and security rules. Physicians had until September 23 to comply.

Among the key changes doctors were required to for the deadline were new agreements with business associates that handle patient information and privacy notices to share with patients and increased security measures for patient data.

Physicians can turn to the AMA's free toolkit for initial guidance in meeting the new requirements. The toolkit offers practical resources physicians can begin using in their practices:
The U.S. Department of Health and Human Services issued the 563-page HIPAA omnibus rule in January, revising and extending required safeguards for protected health information and expanding individual rights of patients. The updated law also tightens requirements on physicians when patient information is breached. As a result, physician practices could face more legal scrutiny and higher fines in the event of an information breach.


---



5 HIPAA Violations You Need to Know



Doctors do not plan ahead to violate HIPAA, but in this digital age they may be unknowingly violating these regulations. Here, we outline five common ways you may be breaking HIPAA privacy and security rules accidently.

1.) Texting PHI to members of your care team. It's a simple scenario: you've just left the office, and your nurse texts you that Mrs. Smith is having a reaction to the medication you prescribed. She has given you her information to return the call. You may know this is illegal, but feel justified because it is a serious case. In reality, this information has just passed from your nurse's phone, through her phone carrier, to your phone carrier, and then to you — four potential areas where this unsecure message could be intercepted or breached.

2.) Taking a photo of a patient on your mobile phone. To some this will sound silly, to others, it is as common as verifying a rash with a colleague. Simple enough, but if these photos are viewed by eyes they are not intended for, you may be in violation.

3.) Receiving text messages from your answering service. Many physicians believe that if they receive a message from a third party, then they are not responsible for any violation of HIPAA. They may verify it is encrypted on their end, but if it pops onto your screen, it is certainly not secure on your end — and this is where your responsibility lies.

4.) Allowing your child to borrow your phone that contains PHI. Many folks allow their kids to play with their phones. If your phone has an app that can access PHI, then you may be guilty of a HIPAA breach if anyone views this information that is not you.

5.) Not reporting a lost or stolen device that contains PHI. Losing your smartphone or tablet is a total pain, but many do not realize that if you have patient information in that device, you could be held responsible for a HIPAA breach.


---
Continuous Membership Is Now Available!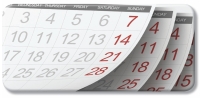 Great News! Continuous Membership is now available! Sign up or renew your membership today and never receive a renewal billing again. Your regular ISMS and Sangamon County Medical Society membership dues of $71.25 will be billed to your bank account or your credit card in monthly payments, whichever is most convenient to you. Your ISMS membership will roll from one month to the next without any need to renew your membership or risk a lapse in membership benefits.

Of course there are always two options for payment:
• Option 1 - Pay one lump-sum payment and your membership is completely paid for the entire 2011 calendar year.
• Option 2 - Elect Continuous Membership and your renewal begins with a debit payment on January 10, 2011. New members will begin with a debit on the 10th day in their first month.

Participants in the Group Membership Program are also eligible to take advantage of Continuous Membership. Group program participants can make payments on an annual, monthly or quarterly basis.

Let us know if you would prefer we debit the payment from your bank account or credit card each month. And that's it! There are no fees to participate.

If you have any questions or would like help signing up, call 1-800-782-4767, ext. 1900, or e-mail membership@isms.org.


---

Get On The SCMS
Or SCMS Alliance Group Email Lists!

If you have an email address, and would like to receive updates and action alerts from either the Sangamon County Medical Society or our Alliance, please let us know. More and more of our communications in the near future will be sent electronically. You can get newsletters faster and eliminate paper clutter on your desk. Don't worry, we won't inundate your inbox!

Your email address is safe with us. We do not share, sell or distribute email addresses to anyone. SCMS also sends periodic news by email to office managers of our members.

Send us your information to join either of our group email lists. Include your full name, which organization's email list you are joining, your email address, mailing address, phone number, office manager, and manager's email. Note: SCMS will promptly forward Alliance information to them upon receipt.


---



Sangamon County Medical Society YouTube Channel


SCMS does not endorse the organizations advertising or sponsoring linked websites, and we do not endorse the views they express or the products/services they offer.